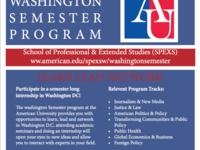 Participate in a semester long internship in Washington DC! The washington Semester program at the American University provides you with opportunites to...
Lasell College Men's Rugby plays their first away game at Nichols College. For questions, please contact: Nate Morency (President):...
Come watch Women's Rugby play against Amherst College at Grellier Field on October 8th at 2:00pm. If you have any questions feel free to contact President...